I can't possibly be the only one here slightly obsessed with autumn. The leaves changing, the days growing colder and the nights longer, the ability to wear thick sweaters and scarves and gloves and eat soup every night- just, yes.
I mean, assuming Illinois cooperates and we actually get fall. If patterns are followed, we'll end up with it 90 degrees one day, and a blizzard the next. Oh wait- that's assuming that we actually get snow. Replace blizzard with -20 degree days and -40 wind chills.
I wish I was kidding.
Anyway, for this week's #TopTenTuesday prompt (which I'm actually following properly! *gasp*), I've thrown together a list of (10!) books I plan on reading this fall- should I have time, a well-pre-developed NaNoWriMo story, and be able to avoid checking out too many other books at the library. Let's hope.
Wonder Woman, by Leigh Bardugo
I've had this on my shelf for a few weeks and I neeeeeeed to read desperately. Ahem.
Moxie, by Jennifer Mathieu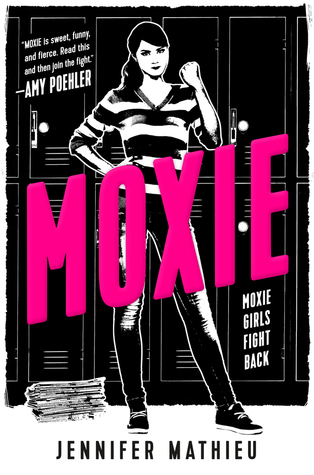 Need! To! Preorder! Pronto!
Just sayin'. I'm all about that feminist revolution.
The Disappearances, by Emily Bain
I've had this on my shelf for a few months and yes. Mysterious, lowkey magical, disappearing items… *dies of happiness*
An Enchantment of Ravens, by Margaret Rogerson
The concept of this is so gorgeous and brilliant and I need.
Scythe, by Neal Shusterman
It's been years, but we're not going to go in that direction. Unwilling apprentices competing to become a grim reaper figure? *grabby hands*
The Language of Thorns, by Leigh Bardugo
MORE LEIGH BARDUGO. I just adore that woman, okay? And the world of Ravka, Fjerda, Kerch, Novyi Zem, Shu Han, (what am I missing? Help me out) has sucked me in and I will read anything that has to do with it. Especially fairy tales. Aside from more of the existent characters, folklore from that world is probably the top thing on my Grishaverse wishlist.
One Dark Throne (Three Dark Crowns), by Kendare Blake
So this one I don't actually own yet. I've preordered it, yeah, but as of writing this post it has not yet arrived. I do own Three Dark Crowns, though, which I will, by all means, be rereading in the coming days.
Bone Gap, by Laura Ruby
Also in the 'years' category. Ahem.
More disappearance/magic/mystery! Yes! I like!
Warcross, by Marie Lu
*stares at book on shelf longingly*
Yeah, I need to read this on soon.
BONUS! The Accident Season, by Moïra Fowley-Doyle
I adored The Spellbook of the Lost and Found, and seeing as I own the other Fowley-Doyle book but haven't read it… yeah, I probably should, soon. Also, it's got the mystery/magic trope that I love so much, so it's pretty high on the list.
---
Right now, I'm reading two nonfiction books at once- one whose title I don't remember but it's a memoir about a British journalist and her husband trying to find happiness in Denmark, and Quiet: The Power of Introverts in a World That Can't Stop Talking, by Susan Cain. I'm definitely not used to the… information, but I am enjoying them both.
Oh, yeah. Also Dante's Inferno, for one of my classes. That one's… interesting, to say the least.
What are you reading this week? Tell me about it! Do you have an autumn (spring?) TBR?