So let's try this a second time. Top Ten Tuesday. Shall we?
1. Strange The Dreamer, by Laini Taylor
The dream chooses the dreamer, not the other way around—and Lazlo Strange, war orphan and junior librarian, has always feared that his dream chose poorly. Since he was five years old he's been obsessed with the mythic lost city of Weep, but it would take someone bolder than he to cross half the world in search of it. Then a stunning opportunity presents itself, in the person of a hero called the Godslayer and a band of legendary warriors, and he has to seize his chance or lose his dream forever.
What happened in Weep two hundred years ago to cut it off from the rest of the world? What exactly did the Godslayer slay that went by the name of god? And what is the mysterious problem he now seeks help in solving?
The answers await in Weep, but so do more mysteries—including the blue-skinned goddess who appears in Lazlo's dreams. How did he dream her before he knew she existed? And if all the gods are dead, why does she seem so real?
Welcome to Weep.
Hahahahaha no this book didn't kill me. It's the most aesthetically pleasing book I've ever read, and basically is fantasy-writing goals. And I wonder, after reading this- I work in a library- does that make me Lazlo Strange?
This basically propelled Laini Taylor to my second-favorite author position (Should I do another list post on favorite authors?) and I binge-read everything else she's written within a week of finishing this. So.
"You're a storyteller. Dream up something wild and improbable," she pleaded. "Something beautiful and full of monsters."

"Beautiful and full of monsters?"

"All the best stories are."
― Laini Taylor, Strange the Dreamer
2. A Wizard of Earthsea, by Ursula K. LeGuin
Ged, the greatest sorcerer in all Earthsea, was called Sparrowhawk in his reckless youth. 
Hungry for power and knowledge, Sparrowhawk tampered with long-held secrets and loosed a terrible shadow upon the world. This is the tale of his testing, how he mastered the mighty words of power, tamed an ancient dragon, and crossed death's threshold to restore the balance. –Goodreads
This book does have its issues, but it's definitely unique. Bronze-Age-inspired fantasy, 99% POC cast, morally-grey everyone… it's impressive. If you want to write fantasy, the Earthsea cycle is a good series to read.
"To light a candle is to cast a shadow…"
― Ursula K. Le Guin, A Wizard of Earthsea
At the Convent of Sweet Mercy young girls are raised to be killers. In a few the old bloods show, gifting talents rarely seen since the tribes beached their ships on Abeth. Sweet Mercy hones its novices' skills to deadly effect: it takes ten years to educate a Red Sister in the ways of blade and fist.
But even the mistresses of sword and shadow don't truly understand what they have purchased when Nona Grey is brought to their halls as a bloodstained child of eight, falsely accused of murder: guilty of worse.
Stolen from the shadow of the noose, Nona is sought by powerful enemies, and for good reason. Despite the security and isolation of the convent her secret and violent past will find her out. Beneath a dying sun that shines upon a crumbling empire, Nona Grey must come to terms with her demons and learn to become a deadly assassin if she is to survive.   –Goodreads
Stabby small children, characters with pasts you would never expect, basically Hogwarts but faaaar more violent and all girls, feminism to the max- I adored this book so much.
"A book is as dangerous as any journey you might take. The person who closes the back cover may not be the same one that opened the front one. Treat them with respect."
― Mark Lawrence, Red Sister
4. The Raven Boys, by Maggie Stiefvater
It is freezing in the churchyard, even before the dead arrive.
Every year, Blue Sargent stands next to her clairvoyant mother as the soon-to-be dead walk past. Blue herself never sees them—not until this year, when a boy emerges from the dark and speaks directly to her.
His name is Gansey, and Blue soon discovers that he is a rich student at Aglionby, the local private school. Blue has a policy of staying away from Aglionby boys. Known as Raven Boys, they can only mean trouble.
But Blue is drawn to Gansey, in a way she can't entirely explain. He has it all—family money, good looks, devoted friends—but he's looking for much more than that. He is on a quest that has encompassed three other Raven Boys: Adam, the scholarship student who resents all the privilege around him; Ronan, the fierce soul who ranges from anger to despair; and Noah, the taciturn watcher of the four, who notices many things but says very little.
For as long as she can remember, Blue has been warned that she will cause her true love to die. She never thought this would be a problem. But now, as her life becomes caught up in the strange and sinister world of the Raven Boys, she's not so sure anymore. –Goodreads
THIS IS BRILLIANT AND GORGEOUS AND MYSTERIOUS AND I JUST ADORE MAGGIE STIEFVATER OK
"Are you really going to work in that?" Maura asked.

Blue looked at her clothing. It involved a few thin layering shirts, including one she had altered using a method called shredding. "What's wrong with it?"
Maura shrugged. "Nothing. I always wanted an eccentric daughter. I just never realised how well my evil plans were working."
― Maggie Stiefvater, The Raven Boys
5. Wintersong, by S. Jae Jones
All her life, nineteen-year-old Liesl has heard tales of the beautiful, mysterious Goblin King. He is the Lord of Mischief, the Ruler Underground, and the muse around which her music is composed. Yet, as Liesl helps shoulder the burden of running her family's inn, her dreams of composition and childish fancies about the Goblin King must be set aside in favor of more practical concerns.
But when her sister Käthe is taken by the goblins, Liesl journeys to their realm to rescue her sister and return her to the world above. The Goblin King agrees to let Käthe go—for a price. The life of a maiden must be given to the land, in accordance with the old laws. A life for a life, he says. Without sacrifice, nothing good can grow. Without death, there can be no rebirth. In exchange for her sister's freedom, Liesl offers her hand in marriage to the Goblin King. He accepts.
Down in the Underground, Liesl discovers that the Goblin King still inspires her—musically, physically, emotionally. Yet even as her talent blossoms, Liesl's life is slowly fading away, the price she paid for becoming the Goblin King's bride. As the two of them grow closer, they must learn just what it is they are each willing to sacrifice: her life, her music, or the end of the world. –Goodreads
More gorgeousness and ferality and moral grey-ness and are we sensing a pattern here?
"In the world above, it had always been Käthe or Josef who captivated people's eyes and hearts— Käthe with her beauty, Josef with his talent. I was forgotten, overlooked, ignored— the plain, drab, practical, talentless sister. But here in the Underground, I was the sun around which their world spun, the axis around which their maelstrom twirled. Liesl the girl had been dull, drab, and obedient; Elisabeth the woman was a queen."
― S. Jae-Jones, Wintersong
6. Daughter of Smoke and Bone, by Laini Taylor
Around the world, black hand prints are appearing on doorways, scorched there by winged strangers who have crept through a slit in the sky.
In a dark and dusty shop, a devil's supply of human teeth grows dangerously low.
And in the tangled lanes of Prague, a young art student is about to be caught up in a brutal otherworldly war.
Meet Karou. She fills her sketchbooks with monsters that may or may not be real, she's prone to disappearing on mysterious "errands", she speaks many languages – not all of them human – and her bright blue hair actually grows out of her head that color. Who is she? That is the question that haunts her, and she's about to find out.
When beautiful, haunted Akiva fixes fiery eyes on her in an alley in Marrakesh, the result is blood and starlight, secrets unveiled, and a star-crossed love whose roots drink deep of a violent past. But will Karou live to regret learning the truth about herself? -Goodreads
The main concern I've heard from people who decided not to read it is that it sounds like that cliched paranormal romance we all accidentally read once and swore never to read again.
I PROMISE YOU THIS IS NOT THAT.
In fact, the romance is actually very lowkey- Karou is far more concerned with her…. ah, other duties-
*inserts overused yet accurate slightly adjusted GoT gif*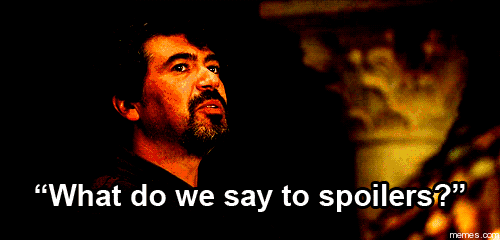 -to worry too much about the angel running around.
I mean, some of her other duties do include worrying about said angel running around, but definitely not in any way that doesn't involve physically harming him. The quote below pretty much sums up the entire premise of the book.
This book- series, really- is full of banter, excellent friends, mutual adoration of chocolate, mutual adoration of good food, morally grey characters, gorgeous scenery- basically, there's a reason I'm still hungover from it two weeks later.
"Once upon a time, a little girl was raised by monsters.

But angels burned the doorways to their world, and she was all alone."
― Laini Taylor, Daughter of Smoke & Bone
7. These Broken Stars, by Amie Kaufman and Megan Spooner
Luxury spaceliner Icarus suddenly plummets from hyperspace into the nearest planet. Lilac LaRoux and Tarver Merendsen survive – alone. Lilac is the daughter of the richest man in the universe. Tarver comes from nothing, a cynical war hero. Both journey across the eerie deserted terrain for help. Everything changes when they uncover the truth.  –Goodreads
They're castaways on a half-terraformed planet, hate-to-love, hallucinations (or are they???)…… I'm getting too tired to make the words go I apologize.
"But who names a starship the Icarus? What kind of man possess that much hubris, that he dares it to fall?"
― Amie Kaufman, These Broken Stars
8. Radio Silence, by Alice Oseman
What if everything you set yourself up to be was wrong?
Frances has always been a study machine with one goal, elite university. Nothing will stand in her way; not friends, not a guilty secret – not even the person she is on the inside.
But when Frances meets Aled, the shy genius behind her favourite podcast, she discovers a new freedom. He unlocks the door to Real Frances and for the first time she experiences true friendship, unafraid to be herself. Then the podcast goes viral and the fragile trust between them is broken.
Caught between who she was and who she longs to be, Frances' dreams come crashing down. Suffocating with guilt, she knows that she has to confront her past:
She has to confess why Carys disappeared.
Meanwhile at uni, Aled is alone, fighting even darker secrets.
It's only by facing up to your fears that you can overcome them. And it's only by being your true self that you can find happiness.
Frances is going to need every bit of courage she has.–Goodreads
This is such a relatable book and it's adorable and wonderful and slightly depressing and deals with a lot of really hard topics? But it's incredible. And yes, I did have a book hangover. It's majorly quotable, so I just went ahead and used the one on the back cover for simplicity's sake. xDD
"I wonder- if nobody is listening to my voice, am i making any sound at all?"
― Alice Oseman, Radio Silence
9. The Girl with the Red Balloon, by Katherine Locke
When sixteen-year-old Ellie Baum accidentally time-travels via red balloon to 1988 East Berlin, she's caught up in a conspiracy of history and magic. She meets members of an underground guild in East Berlin who use balloons and magic to help people escape over the Wall—but even to the balloon makers, Ellie's time travel is a mystery. When it becomes clear that someone is using dark magic to change history, Ellie must risk everything—including her only way home—to stop the process. –Goodreads
A few reasons that should definitely put this on your TBR:
East Berlin time travel.
BALLOON time travel
Romani protagonist
Jewish protagonist
Just general time travel and diversity brilliance ok
It's sooo good ok so just read it.
Unfortunately, no quotes from here- I had an eARC and it's not downloaded anymore and it's laaaaaate at night so… but come September! Read! This! Book!
10. The Song of Achilles, by Madeline Miller
Greece in the age of heroes. Patroclus, an awkward young prince, has been exiled to the court of King Peleus and his perfect son Achilles. Despite their difference, Achilles befriends the shamed prince, and as they grow into young men skilled in the arts of war and medicine, their bond blossoms into something deeper – despite the displeasure of Achilles' mother Thetis, a cruel sea goddess.
But when word comes that Helen of Sparta has been kidnapped, Achilles must go to war in distant Troy and fulfill his destiny. Torn between love and fear for his friend, Patroclus goes with him, little knowing that the years that follow will test everything they hold dear. –Goodreads
At this point, I'm too tired to say much more than this is wonderful and yes. I honestly don't think I've seen a negative review for this and no fewer than half a dozen people recommended it to me before I read it.
"Name one hero who was happy. You can't."
― Madeline Miller, The Song of Achilles
Edit: SO APPARENTLY I DIDN'T CLICK 'AM' INSTEAD OF 'PM' WHEN I SCHEDULED THIS IM SO SORRY THIS HAS BEEN TWO WEEKS NOW